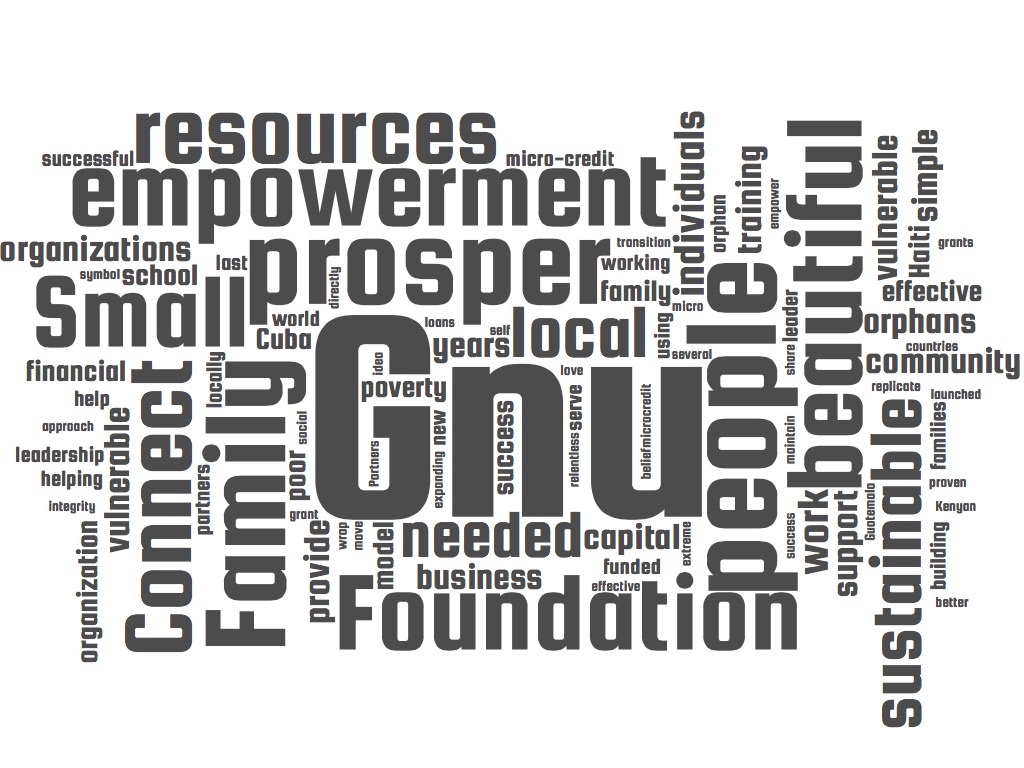 A Quick Look at GNu
Gnu Foundation is a private, non-profit charitable organization with the mission to provide the extreme poor and most vulnerable the financial tools needed – grants, micro loans, business training and other resources – to help them work their way out of poverty.
Gnu Foundation's microcredit grant programs are managed by local Gnu partner organizations of high integrity and standing in their community with a proven dedication to improving lives locally.
Gnu provides financial training resources, leadership and grants of working capital to our partners who manage social business and local microcredit programs using the group solidarity model to assure that loans are repaid and passed on to the next borrower.
This cycle of local community management and leadership, training, borrowing and repaying has proven to be both successful and sustainable.
Gnu Foundation is a tax-exempt organization under Section 501(c)(3) of the Internal Revenue Code. Tax ID # 26-4479083.
All donations are tax deductible to the full extent of the law.
Our Name:
The name and symbol for the Gnu Foundation was born on the Serengeti plains while observing the annual migration of the ignoble wildebeest (gnu's). The gnu, a hoofed mammal and member of the antelope family, continually on the move, relentless in their advance, striving to reach better pasture to support their families and future … a picture of peoples across the world — families concerned with providing love, support and basic needs — became our symbol.
 
Our Mission:
Connecting people to the resources needed to prosper
 
Our Purpose:
To empower individuals and families into self reliance, while obtaining self dignity, building better communities.
 
Our Vision:
To be relentless and on the move, overcoming obstacles in our efforts. Our limits are boundless… it's time to serve!